TECHNOLOGY
The ability to see clearly and understand the surrounding environment is critical for robots and many machine vision applications. Current 3D sensors often have trouble with things like reflective surfaces, un-textured white walls, bright sunlight, dark interior spaces, and translucent objects such as windows. MagikEye was designed to see all of that, and more.

Our family of 3D sensing solutions support a wide range of applications, from smartphones, robotics and surveillance applications. Our solutions offer the smallest, fastest and most power-efficient 3D sensing. MagikEye's technology also includes greater field of view (FOV) flexibility than all other methods. This flexibility includes hemispherical fish eye depth sensing and 90-degree FOV that is capable of speeds up 300+ frames per second (FPS).


Optics & Math Breakthrough enables Smallest,
Fastest & Most Power-Efficient 3D sensing.

Magik Eye's technology is based on Invertible Light™ which is our new theory for depth sensing. Invertible Light™ is a breakthrough of optics and mathematics that generates a 3D point cloud, using only a regular dot projector and an image sensor. By projecting a regular dot pattern on an object, the Invertible Light™ method, composed of a small set of data and a direct algorithm, computes 3D depth data in an ultra-high speed manner. The result is the smallest, fastest & most power-efficient 3D sensing.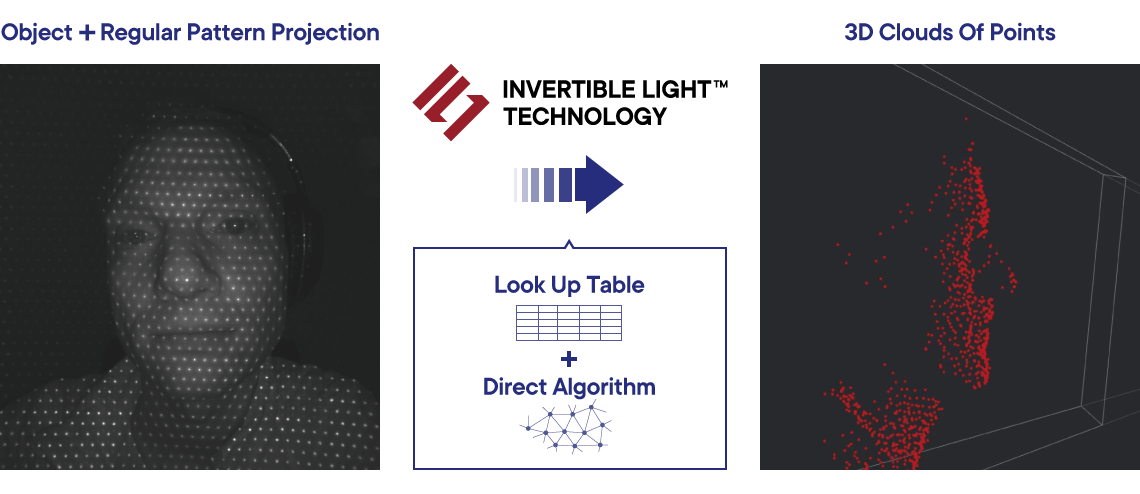 Breakthrough of Optics and Mathematics
Invertible Light™ is in stark contrast to current 3D sensing methods. For example, Structured Light requires the projection of a specific or random pattern to measure distortions. The result is significant power, multiple components and complexity of production. In contrast to the Time of Flight (ToF) method that is good for longer distances, Invertible Light™ has greater visibility in shorter distances with similar advantages of size, speed and power-efficiency.

Regular Pattern Benefits
Less laser power consumption
Variable FOV and lens distortion
Efficient calibration process instead of active alignment
Higher S/N to handle more variety of reflective materials
Direct algorithm with minimal computational power